In my last post, I came to the conclusion that one foundation of self-care is creating and maintaining healthy boundaries in working relationships.
Having moved across the country in the past year, I'm in the process of creating and maintaining an all-new set of relationships. And if my social media newsfeeds are to be believed, making IRL friends as an adult is something that a lot of people struggle with.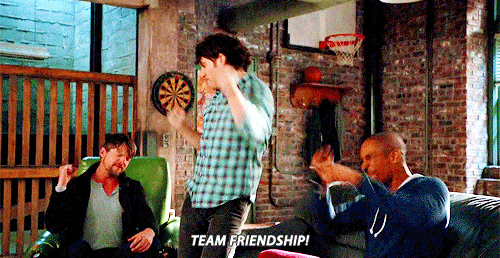 Three people throwing their fists in the air in unison.
Text reads, "Team friendship!"
To help me start with this reflection, I looked to the person in my life that is probably the best relationship-builder I know: my spouse, Caleb. Nearly all the people I now call friends are people I've met through Caleb. He has been asked to stand at weddings several times and he's a godfather to two. His best friends are those he's been friends with since FOREVER. And their friendships are not just of convenience, since we've moved so far from his hometown in Florida and they still keep in touch frequently. He tells basically every FB friend "happy birthday" and while I don't understand it he sees is as an important Facebook Friend Role.